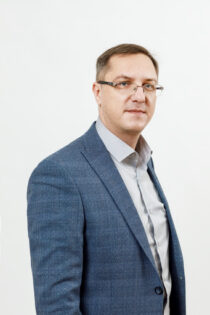 Ivars Sviridovs
Member of the Board
Appointed as a member of the board of LGS on 7 January 2022 with a mandate for 5 years. Responsible for the Quality Assurance Department of LGS.
In 2005 Sviridovs earned a bachelor of social sciences degree in management from Riga Stradiņš University. He has regularly expanded his education in finance, accounting and air navigation, obtaining relevant certificates.
He began his professional career in 2005 by joining auditing firm Deloitte Latvia, where he worked as an auditor and consultant. Since 2009 he has been working at LGS, where he has been a financial economist and Head of the Financial Planning Unit. In 2014 he was appointed as Head of the Finance Unit. From 2011 Sviridovs was the financial controller of the North European Functional Airspace Block, and from 2018 he was also the financial controller of Borealis Alliance. As of 2010 Sviridovs is a member of the Enlarged Committee of the European Organisation for the Safety of Air Navigation (Eurocontrol).
He is fluent in Latvian, English and Russian.
In his free time, he enjoys playing tennis and reading.
Back