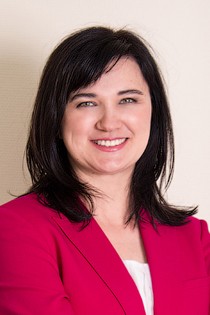 Iveta Virse
Member of the Board
Member of LGS Council since 24.03.2016., will hold office until 23.03.2021. Responsible for the Strategic Planing and Administrative Support Department of the State Joint Stock Company "Latvijas gaisa satiksme".
Iveta Virse has graduated the Faculty of Law of the University of Latvia and has obtained higher professional education as a lawyer. Mrs Virse has attended different IATA training courses on various aviation field topics, and perfected her skills in communication, business management and law.
Iveta Virse was a Deputy Head of the Administrative Department. Mrs Virse has work experience as a Deputy State secretary in Ministry of Welfare of the Republic of Latvia, deputy director of the Employment State Agency and other positions in different public authorities. Iveta Virse speaks fluent Latvian, English and Russian.
Back