LGS receives EBA National Winner award in Warsaw
09 Dec 2019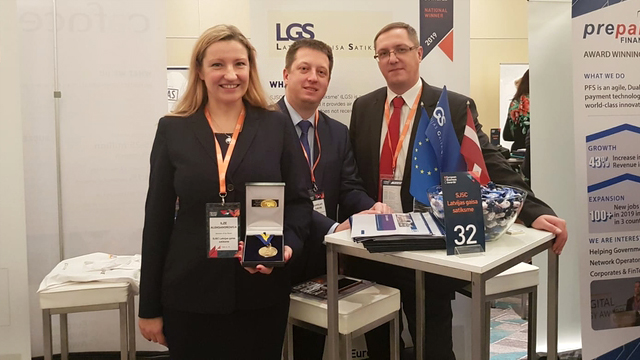 On December 4 in Warsaw, Poland, "Latvijas gaisa satiksme" received a European Business Award (EBA) – the National Winner gold medal in the category Business of the Year Award with Turnover 26 to 150 million euros.
On December 3 and 4 Ilze Aleksandroviča, Member of the Board of LGS, Ivars Sviridovs, Head of the Financial Department, and Vladislavs Čaščins, Deputy Head of the Technical Support Department, attended the EBA finals providing answers to the intricate questions posed by the competent jury.
After the event I.Aleksandroviča said: "We usually compare ourselves and share experiences with other air navigation and navigation sector companies in Europe, of which we are one of the best. This is the first time we are comparing ourselves to private companies of all kinds of sectors, where each one has its own recipe for growth. Even though we differed from the others at Warsaw in that we are a state-owned company working in a regulated sector, the experiences of other companies can to some extent be applied to our further development as well."
The European Business Awards were presented for the 12th year to promote the development of strong and successful companies throughout Europe. They are currently one of the largest and most prestigious business awards in Europe. The awards ceremony was attended by approximately 500 heads of successful businesses, scholars and politicians.
150,000 companies from 33 countries were selected for the first round of evaluation. 2753 companies made it into the "Ones to Watch" list, and of those a jury selected only 363 companies for the final shortlist. LGS was one of two Latvian companies participating in the finals.
More information available at: www.businessawardseurope.com
Back