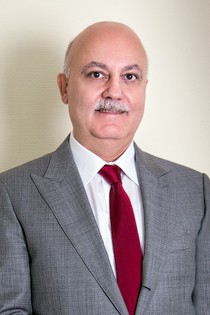 Dāvids Tauriņš
Chairman of the Board
Higher legal education was obtained at the University of Latvia and the State University of Tbilisi. He received his Legal Sciences Doctoral degree at the Institute of State and Law of the Academy of Sciences of the USSR.He is frequently improving his knowledge and in November 2018, he completed his studies at IATA(International Air Transport Association) and has earned with distinction Air Navigation Services Management Diploma.
Mr.Taurins has been a Chairman of the Board of the LGS since 24.03.2010, will hold office until 23.03.2021. Responsible for the work of the Quality Assurance Department.
He is also a Board member of the North European Functional Airspace Block (NEFAB) as well as ANSP organization Borealis. Mr.Tauriņš was also appointed as a NEFAB representative in the European Organization for the Safety of the Air Navigation (EUROCONTROL).
He held a number of senior positions as Deputy State Secretary of the Ministry of Finance of Latvia on Tax Policy issues, State Secretary of the Ministry of Finance of Latvia, representative of the Ministry of Finance in Liepaja Special Economic Zone.
Mr.Tauriņš has a working experience in senior positions of different enterprises and banking sector – JSC "Rīgas Siltums", Saules banka, Baltijas tranzīta banka, Hipotēku un Zemes banka and used to head a Secretariat and Legal Department in an international transport engineering company in Switzerland.
He has a perfect command of Latvian, English and Russian languages.
Mr.Tauriņš prefers to spend his free time in open air, likes to listen to music and to participate in sports activities.
Back